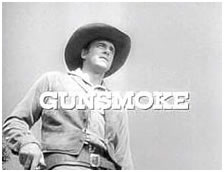 Gunsmoke and the Economy

View past ejournals HERE>>

When I was growing up, my father liked to watch a television show called Gunsmoke every week. It was about the old West days of Dodge City, Kansas and it was the longest-running prime time drama series in U.S. television history.

Gunsmoke featured the usual dramatic cast of characters—a heroic U.S. Marshall, his comic sidekick Chester, his long-suffering friend "Doc" Adams, and his forbidden love, Miss Kitty, who ran the local saloon.

In each episode, the Marshall had to confront a new villain who threatened to make Dodge City unsafe for law-abiding citizens.

Marshall Matt Dillon became a cultural icon of courage, decency, and defense of the right to my parents' generation who were coming out of the Korean War and heading into the war in Vietnam.

He was tall, with a huge physical presence, and with his calm, swaggering, no-nonsense manner, he made the wild west a lot less wild—a safer place for normal folks to live in peace.

When Matt Dillon said, "Get outa Dodge," the bad guys would saddle up and move on.

But there was another remark that Matt Dillon made that applies to life right now. He said, "The man who's never afraid is a fool."

Another Great Depression

We've recently been hearing a lot about another "Great Depression" coming.

My father was a young boy during the Great Depression and it made a lasting impression on him. At one time, things got so bad that his mother asked his older brothers to trail their father wherever he went because she was afraid that he might try to commit suicide.

Because of the Depression, a whole generation of children grew up affected by their parents' fears of financial failure, and they passed those fears on to their children and their children's children.

All of us alive today whose parents, grandparents or great grandparents went through the Great Depression have inherited a fear of loss of money that is so deeply engrained in us that we are hardly aware of it. But it can be triggered at a moment's notice.

It is this subconscious, inherited fear that is one of the reasons there can be such widespread panic when the economy begins to slump. It is also one of the fears the media can use most effectively. They seem to understand that they can use our fear to make us listen to what they have to say and to sell us what they want us to buy.

With all the bad economic news lately and talk of another Great Depression, are you scared? This financial meltdown with the bailout bill and all this talk of hard times for all of us is enough to scare anybody.

Like Marshall Dillon said, "The man (or woman) who is never afraid is a fool."

Don't Get Caught Up In IT!

Yeah, we're no fools, and we are afraid. Some of my friends have told me they are so afraid they are almost sick. I admit that I've gone through some fearful moments myself.

A book I have been reading recently says this: "Most fear is a lie."

The more I've thought about that statement, the more I've realized its truth. Most fear is based on an imagined future, so it's not even based on anything real. The future hasn't happened yet and it certainly isn't happening right this minute.
If you're reading this, chances are that, even though you may be in financial difficulty, you still have a roof over your head and food on your table. So the fear doesn't have anything to do with what is happening right this moment...it has to do with what you imagine might happen in the future.

So what we are really dealing with is not what is actually happening, but the terrifying imaginings of what might happen to us if we lose that job or if we run out of money or if we lose our house.

Fear also comes out of a sense of feeling powerless against powerful forces beyond our control.

So if we combine an ingrained, inherited fear of a nationwide financial meltdown with the media's constant barrage of bad financial news and add our own imagination about a future of doom, we have a recipe for terror.

But it is also a recipe for great opportunities. We have an opportunity to really examine our deepest fears about money and security, our fears about loss of control, and our fears about being at the mercy of cruel forces that we don't understand. And, if we are creative, we just might find that the financial crisis presents us with an opportunity to make money instead of lose it.

Opportunity #1: Awareness of your thoughts and words
You can never control all the external circumstances that affect your life...but you can control how you respond to them.

You can control how you will interpret events and what you say about them. You can notice your own internal dialogue about events and stop "talking" to yourself in ways that generate fear and feelings of hopelessness.

So yes, be afraid when that is appropriate. But don't keep saying things like, "Oh my God, I don't know how we are going to make it...this is going to be terrible."

You have to take command of your thoughts and, like Matt Dillon, very firmly tell those negative thoughts to, "Get outta Dodge!"

Life tends to go in cycles, good and bad, each one perceived as an unchangeable reality while it happens.
So, the first opportunity presented to you by this financial crisis is the opportunity to pay attention to your thoughts and words; to watch how often you live in an imaginary future instead of in the here and now, and watch how you may tend to assume the worst.

Opportunity #2: Tear down generational idols
Every family has it cherished beliefs about money, the "idols" it serves concerning money. Just like you inherited your mother's and father's physical genes that may have given you blue eyes or curly hair, you've inherited your family's emotional and spiritual "genes"—and this includes their legacy of things that "trigger" their deepest fears, longings, anger, and grief. And, if your parents or grandparents were affected by the Great Depression, they've probably passed on to you their "triggers" about money.
Take a long, hard look at your fear. Is it really YOUR fear, or is it fear that you inherited that has been triggered by recent events and by the media?

It's times like these when you have the opportunity to see things about yourself that you don't want to pass on to your children. It's times like these that you have the opportunity to "cast out" family demons and "cast down" family gods about money and security so that they won't be passed on to your children and then to their children.

Breaking the generational inheritance of fear about money may be one of the most important things you ever do for your children.

Opportunity #3: Make money instead of lose it
What most people don't realize is that there is just as much opportunity to get rich during an economic crisis as there is to become poor. For example, right now, those who know how to play the options market are making the profit of a lifetime on the stock exchange. And those with an eye for real estate bargains are going to make a fortune when the market turns around…which it always does.

This is the time to think like an entrepreneur. When everyone else is panicking and expecting doom, you can look for opportunities. Ask yourself, "How can I make money in this situation? What kinds of services are people still willing to pay for when they are in a financial crunch?"
For example, I took my Yorkie to the groomer today and asked her how business was. She said that boarding had practically dried up because people weren't taking trips because of the high price of gas. But, people were getting their dogs groomed more often.

Opportunity #4: Your children get to learn valuable lessons
Children tend to pick up the emotional content of events because they are seldom told what is going on in a way they can understand. So rather than teaching them to fear financial crises, this is your opportunity to not only teach them that financial crises don't have to be fearful, but also to teach them the basics of economics.

Study the Great Depression. Tell them what happened and draw parallels to today's economy. Explain what leads to financial crises and how they can build a more secure financial future for themselves. Teach them about borrowing, about government spending, about the issues facing America today.
If you have high schoolers, you can turn this study into a unit of Economics for high school credit.
Find a different way of looking at things
This may seem like a Pollyanna view of life, but there is always a different way of looking at things. Find it.

When I lived in Arizona I met a woman who had recently moved to Sedona from Texas. While she was on a visit to Sedona, looking for a house there to move into, someone backed a moving truck into the driveway of her house in Texas, picked the lock on her front door, and took everything out of her house. And I mean everything! None of her neighbors even though it was unusual because they knew she was planning to move. They just thought she had decided to move a month or two early.
When she got back to her empty house in Texas, at first she was devastated. Then it dawned on her how simple her life was going to be now that she didn't have to keep up with all the "stuff" she had accumulated for 30 years, most of which didn't contribute at all to her happiness but instead weighed her down with having to take care of it.
She took the insurance settlement and fulfilled her dream of moving to Sedona, AZ. Now that she had no "stuff," she didn't need a big house, so found a small apartment that she furnished simply. What started out looking like a disaster turned out to be one of the most freeing events of her life.
So, the moral of this story is: it's all in how you look at things. You can either see gloom and doom or opportunity.
Refuse to believe anything but that God works all things to the good of them who love Him. Take a broader view and ask yourself, "What is the good in this situation?
Be sure to sign up for our ejournal! Sign up below.

View past ejournals HERE>>

Any article appearing on this website may be copied or forwarded electronically provided that proper credit is given and that the article is not substantively modified. No article may appear in whole or in part in a publication sold for profit or as part of any commercial endeavor without the written consent of Home School Marketplace. Any reprint must include an acknowledgement of where it came from and the sentence "Sign up for the Home School Marketplace newsletter at www.homeschoolmarketplace.com."

© Copyright 2008. Home School Marketplace, 1053 Eldridge Loop, Crossville, TN 38571.