Papa's Boyhood Winters
Read past issues of the e-journal HERE>>

Sign up below to have the e-journals sent directly to your inbox.

by Ellyn Davis
My father died several years ago. He was 87. Papa was a great story teller and before he died, he would share stories of his boyhood winters in Blakely, Georgia.
In fact, his life began with a "winter story." It was icy the day he was born and the doctor was delayed by the bad weather. My grandmother grew more and more frantic as her labor became more and more intense. This was before the days of babies being born in hospitals, so she was at home delivering the baby in her own bed. When the doctor finally arrived, he hurried up the steps and slipped on the ice, nearly knocking himself out.

But everything went well. The doctor came out fine and so did Papa.

My grandfather farmed around 1500 acres in Early County, Georgia, so my father and his four brothers did their fair share of the work. As farmers, spring, summer and fall were the "working" seasons when the family's effort went into preparing a good harvest. But winter was an important season too.

Winter was a time for reflecting over the past year, thinking through what you did right or could have done better. It was a time of planning, of marshalling resources to be used in the next season of growth. It was a time of sharpening tools and fixing machinery, of undertaking special projects. And…winter was a time of having fun. There were harvest festivals, taffy pulls, holiday celebrations, visits with relatives, family sing-a-longs, church socials, favorite books to read, and hobbies to pursue.
In the spirit of Papa's boyhood winters, we suggest that winter can be a special time for home schoolers.
Usually, by January the school routine has been worked out, but spiritual vision may be waning, the children growing restless. Mom and Dad may need to reevaluate, to "sharpen their tools" and "repair their machinery" mentally, physically, emotionally, and spiritually. They may need to strengthen family ties, to make readjustments in the direction they have chosen, or…just have fun.
When we thought through what might be helpful to home schoolers in winter, we came up with the following ideas:
Winter is a time to deepen spiritual roots. For people as well as trees, winter is a time to put down deeper roots—roots that will support spring and summer growth.
Winter is a time to renew our vision. The energy of the vision we started with at the beginning of the school year may be waning and we may need encouragement to continue in the good work that we started.
Winter is a time to strengthen family ties. This time is especially good for creating meaningful family times because the weather often keeps everyone indoors.
Winter is a time for special projects. Cold winter days inside are ideal for special hobbies and projects.
Winter is a time to reevaluate, to make sure nothing is "falling through the cracks" academically.
Winter is a time for quality family reading.
Winter is a time to have fun!
We will devote the next several issues of the newsletter to celebrating Papa's Boyhood Winters, beginning with an issue about "Homeschool Burnout" next week.

Around midwinter, many of us begin asking ourselves, "Why are we doing this?" We might have been discouraged by relatives during the holidays; disheartened by the Christmas projects, plays, and activities available to children at the local schools and unavailable to our own; or drained by the constant demands on our time and energy homeschooling requires. We may need a good healthy dose of encouragement—someone to say, "You're on the right track! You're doing the right thing! This conviction in your heart is really from God! Your kids will turn out fine!"
For whatever reason, winter is a good time to reaffirm the fact that "He who began a good work in you will be faithful to complete it."

If you've found your vision waning and your need for encouragement reaching a peak, read these books. Once you do, you'll realize that you're on the right track after all.
I Saw the Angel in the Marble

For the Children's Sake
Homeschooling for Excellence

Dumbing Us Down

Learning All the Time

Guerilla Learning

If You Want Your to Be Rich and Happy, Don't Go to School

Next week....Home School Burnout.






Juice Plus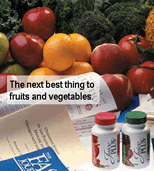 I want to spotlight a product I've found that has made a real difference in my health. It's called Juice Plus+.

I've always been concerned that my family was never getting enough fruits and vegetables because a lot of times, in spite of my best intentions, breakfast wound up being something quick like cereal and lunch wound up being something even quicker, like a peanut butter and jelly sandwich. I went through periods where I would try and make the meals ahead, but that only lasted a short while. Then I tried getting a juicer, and that lasted an even shorter while because it took three times as long to get the fruits and vegetables ready for the juicer and then to clean it afterwards than it took to make and drink the juice. And I always got stuck cleaning the strainer because no one else wanted to do it.

Then a friend recommended Juice Plus+ to me. It has 17 fruits, vegetables, and grains in capsule form. Somebody has already done the juicing for me, then dried the juice in such a way that all the enzymes from the raw produce is in the capsules, and--big bonus--they are carbohydrate free.

Being the skeptic I am of any kind of health supplement, and wary as I am of any multi-level marketing business, I decided to give Juice Plus+ four months to prove its claims.

What did I experience? More energy, better skin, hair and nails, and better sleep. And did I mention that I had more energy. A friend of mine started on them at the same time and experienced significant improvement in a long-standing chronic disease.

So that's my story about Juice Plus+. It is an easy, affordable way to make sure you and your children get all the fruits and vegetables they need. And Juice Plus+ even has a children's health program that lets you get the capsules free for children between the ages of six and fifteen. Plus, there is a family plan to make Juice Plus+ even more affordable.

Another bonus is that Juice Plus+ makes a great home business that Moms can run to make money while they're home schooling.

So, check it out by going HERE>>

hooling and home life.

CLICK HERE FOR THE PRODUCTS WE CURRENTLY OFFER

Webpages about the importance of reading great books and booklists for children of all ages
te are completed:
Webpages about choosing teaching materials

Webpages about charting a course through high school


Be sure to sign up for our ejournal! Sign up below.

Any article appearing on this website may be copied or forwarded electronically provided that proper credit is given and that the article is not substantively modified. No article may appear in whole or in part in a publication sold for profit or as part of any commercial endeavor without the written consent of Home School Marketplace. Any reprint must include an acknowledgement of where it came from and the sentence "Sign up for the Home School Marketplace newsletter at www.homeschoolmarketplace.com."

© Copyright 2007. Home School Marketplace, 1053 Eldridge Loop, Crossville, TN 38571.