Funny Video
I have to say that I hate stereotypes of home school families, but this is hilarious…
Your Legacy
Read past issues of the e-journal HERE>>

Sign up below to have the e-journals sent directly to your inbox.

by Ellyn Davis
I had a birthday during the holidays. I never have a birthday without thinking about my father, because his birthday was the day before mine. He and my mother had hoped I would be born on the same day he was, but I was stubborn enough to hold out until 2:45 the next morning. But at least all my life my father and I had back-to-back birthdays. He would have been 94 years old on December 19. But he died several years ago... when he was 87.

My mother is still here (she's 88), and last week she, my sisters and our children (and grandchildren) and I were in Blakely, Georgia celebrating Christmas together. And we all missed the man we called "Papa."
In upcoming issues of the journal, I'm going to share about "Papa's Boyhood Winters," but right now I just want to share a little about my father's funeral. As I thought about my father, I thought about Steven Covey's concept of four major priorities for families: to live, to love, to laugh, and to leave a legacy. My father did all four, including leaving a legacy to his children and grandchildren.

Papa's death was unexpected. He had gone into the hospital with a mild case of pneumonia and none of us bothered to make the drive to Dothan, AL to the hospital because the doctors kept telling us that he would be out in a day or two and our mother would probably need our help more after he got out. But then he suddenly developed acute congestive heart failure and died before any of us could get there.

Our grief was intense, but the funeral was a family celebration of his life and faith in God. My son James sang one of Papa's favorite hymns ("His Eye is on the Sparrow"), my husband and I both spoke and shared memories of his life, and his grand-daughter read a poem she had written about him.

During the preparations for my father's funeral, I began thinking about my grandmother, Caroline Blackshear Bridges. When she died over 30 years ago, I drove to Blakely, Georgia to attend her funeral. As I looked around me at her children, grandchildren, and great grandchildren, as well as all the friends who had assembled in the Blakely First Baptist Church to pay their respects to the woman we had all called "Miss Carrie," I thought about Exodus 20: 5 that says God visits "the sins of the fathers upon the children to the third and fourth generation."

I was suddenly struck with the reality that the reverse of that scripture is also true. God blesses the children of the righteous to the third and fourth generation. I knew that Miss Carrie had been a Christian. Her father died when she was a child, but her maternal grandfather was a Christian who said he received a call from God to become a missionary to the then wild and sparsely settled portions of backwoods Georgia.

His name was James C. Bass, and he would travel to remote lumber camps and stand on a stump to preach the gospel to the rough lumberjacks. This grandfather had a powerful impact on Miss Carrie's life.

So at my grandmother's funeral over half a century after James C. Bass died, I realized that nearly every one of Miss Carrie's children, grandchildren, and great-grandchildren were Christians. As I sat through that funeral, I was overcome with gratitude for my godly heritage.

Then, at my father's funeral (Miss Carrie's son), I again saw children, grandchildren, and great-grandchildren: three generations who had all been affected by my father's belief in God. My father was not only a Christian, he was a Southern gentleman, who imparted a legacy of loyalty, integrity, principle, productivity, and confidence to his children, grandchildren, and great-grandchildren, as well as to all those around him. He gave us all a firm belief that each person's life could count for something. His life motto was, "Make the effort."

I spoke at my father's funeral, and what I shared was that God is faithful to bless righteousness. One righteous person can impact four generations, and those four generations can each impact four generations after them, so that the ongoing impact of righteousness can be never-ending as it passes down into the future.

In fact, the Bible tells us God shows His mercy and steadfast love to a thousand generations of those who love Him and keep His commandments (Exodus 20:6).

How about that? We can bring mercy and steadfast love to a thousand generations simply by loving God and keeping His commandments.

So, I guess what I want to tell each of you who reads this article is: your life can affect forever.

Maybe you don't have generations of godliness standing behind you, but you can start where you are and affect your children, grandchildren, and great-grandchildren—at least three generations beyond you. And each of them can affect at least three generations beyond them.

And who knows? If God were once willing to spare Sodom for only ten righteous men, maybe your presence in your own city has more of an impact than you could ever imagine.

Next week...."Papa's Boyhood Winters."


Top Resources for Building Healthy Relationships

The Seven Habits of Highly Effective People by Stephen Covey. Covey's ideas are so widely circulated that if you don't read his book, you'll be at a disadvantage when people start talking about concepts from the book like "win-win" and "synergy." But that's not the real reason to read his book. The real reason is that it is one of the absolute greatest distillations of the concepts that it takes to move toward success and effectiveness in every area of life, including relationships.

The Seven Habits of Highly Effective Families by Stephen Covey. Covey defines success in relationships as "a beautiful family culture" and encourages every parent to do some soul searching to become aware as to what really is priority in life. Then, he suggests we put "first things first." Most of us really want to have family come first, but doing that is often easier said than done. In this book, Covey clearly points out the essentials...such as establishing effective communication lines through family meetings and one-on-one talks with the kids. One of the most transforming things in this book is his description of how to create a family mission statement. This becomes a guiding principle of family life and was invaluable to our familyl as the children were growing up.

How to Really Love Your Child. In this extrordinary book, Dr Ross Campbell helps parents manifest love toward their children in all situations of child-rearing through the teen years. Many parents do not know how to express affection in ways that make a chid feel loved. This book details practical demonstrations of that are meaningful to children.

How to Really Love Your Teenager is specifically addressed to parents of teens. Dr. Ross Campbell believes that parents experience their greatest difficulties at this stage because they are unable to relate to the moodiness and self-identity issues that teens go through. So parents often harbor misconceptions and face disappointment in their relationships with their teens. This book offers ideas to help you communicate unconditional love, handle teenage anger . . . as well as your own, deal with adolescent depression and help your teenager grow spiritually and intellectually.

The Five Love Languages. Unhappiness in a relationship often has a root cause: we speak different love languages. Each of us has a "love language" of certain actions and words that when others use them it makes us feel loved. Do you feel most loved when those you love spend quality time with you, give you gifts, speak words of affirmation, perform acts of service, or when they touch you affectionately? This is a very thought-provoking and helpful book because it has given us greater understanding of how to show we care in a way that is most meaningful to the other person.

The Five Love Languages of Children and The Five Love Languages of Teenagers focus on finding the form of love most meaningful to each of your children and how to express love in ways that they can truly appreciate and receive it.

The Blessing. In the Bible, the parents' blessing was especially powerful, often defining the course of a child's life. This book discusses how a parent's words can shape identity for good or evil, and how what we speak over our children can hlep them become who God means them to be. It also shares the heartache a lack of parental blessing can bring, and how we can confer a blessing upon our children.





Juice Plus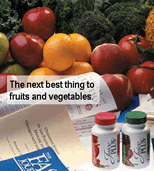 I want to spotlight a product I've found that has made a real difference in my health. It's called Juice Plus+ and it is an easy, affordable way to make sure you and your children get all the fruits and vegetables they need.

Juice Plus+ even has a children's health program that lets you get the capsules free for children between the ages of six and fifteen. Plus, there is a family plan to make Juice Plus+ even more affordable. Another bonus is that Juice Plus+ makes a great home business that Moms can run to make money while they're home schooling.

So, check it out by going HERE>>

hooling and home life.

CLICK HERE FOR THE PRODUCTS WE CURRENTLY OFFER

Webpages about the importance of reading great books and booklists for children of all ages
te are completed:
Webpages about choosing teaching materials

Webpages about charting a course through high school.