How to Survive the Relatives, part 3
A Primer in Twelve Lessons

Read past issues of the e-journal HERE>>
Sign up below to have the e-journals sent directly to your inbox.

by Ellyn Davis
This is the last installment in a three part series on "How to Survive the Relatives," Previous lessons have been: (1) Don't shoot the Messenger; (2) Get the Message; (3) Leave the policing to the cops and the judging to the courts; (4) Being Peter Pan is no fun without pixie dust; (5) Your little light may indeed be shining; and (6) Nobody thinks your children or pets are as cute as you do.

If you are like me, God will probably give you plenty of opportunities to practice these lessons during the holiday season.

Now for the last six lessons in your primer on "How to Survive the Relatives."

Lesson 7: Make it easy to stay PG in an R world.

If, in the past, relatives have wanted to play games, show videos, or engage in activities that you do not want your children to be a part of, be sure to pack wholesome or activities so you can present creative alternatives to what other relatives may suggest. Let your children understand beforehand that they may not be allowed to participate in some of the family activities.

Some activities we've found that everyone from 9 years old and up seems to enjoy are Rummikub,, charades and flashlight tag at night. But also be prepared to be a good sport if the rest of the family decides it wants to go ahead with an activity you are not particularly pleased about. You don't have the right to decide how things should be done in anyone's home but your own.

Trust God to keep your children from harm. God is better able to keep our children pure than we are. At family gatherings children will often see, hear, or take part in things you do not allow at home. Of course you will try to monitor your children's interactions with others and gently redirect conversations and activities, but a certain amount of worldliness may be unavoidable.

If you really want to know and love your relatives, you must take them as they are. Relax. Your children won't be permanently damaged by a "taste" of the world, and it allows them to learn to treat other people like human beings, warts and all.

Lesson 8: Adjust your attitude.

Remember, we are ourselves sinners saved by grace. The only difference between us and our unsaved relatives is we have accepted the Lord's offer of salvation through Jesus Christ and allowed Him to influence how we should live.

Also, if our relatives are Christians but do not share our convictions about home schooling, family planning, abortion, political action, whether 9/11 was a conspiracy, or whatever, we must remember that God has put certain convictions in our hearts not because we are better than our relatives, but because God is loving and gracious. Having certain convictions does not make us "right" and them "wrong," it just makes our values different from theirs.

Elderly relatives may be particularly skeptical of your beliefs because they have lived long enough to see many newfound "convictions" come and go. We cannot attend a family gathering with a "holier than thou" or a "more enlightened than thou" attitude and expect a hearty welcome.

Lesson 9: Go with a clear conscience.

Are you harboring resentment, unforgiveness, or hatred toward a family member? Do you need to ask forgiveness from an offended relative? Have you ever fully reconciled with your parents? You can't expect your visit to be pleasant if you are guilty of contributing to strained relationships.

Lesson 10: Shoulder your portion of the load.

It's a lot of work to have other people in your home, even if they are family. So when you go to visit relatives, bring food, bedding or other items necessary to keep them from feeling presumed upon. Plan to assume more than your fair share of the cooking, cleaning, and other work involved in a family gathering (and prepare yourself and the children to work with a good attitude).

Lesson 11: Leave things cleaner than you found them.

A family gathering can generate an astounding amount of garbage, dirty dishes, soiled linens, and clutter. Be sure that you clean up after yourself and your children while you're there, and don't leave bags of trash, piles of dirty linens or dishes, unmade beds or any other cleaning up for your family to deal with after you're gone.

And please, if you have children in diapers, either find a way to dispose of the dirty diapers during your visit (not in the kitchen or bathroom trash cans) or bag them up and haul them off with you when you leave. No one else should ever have to deal with your children's dirty diapers.

Lesson 12: Thank God that you have a family.

Many people have no relatives to visit, no grandparents for their children, no parents or brothers and sisters who understand a side of them no one else can. Pray for your family. Express your gratitude to them. Become aware of their needs and make an effort to meet them.

Merry Christmas and a Happy New Year!



Resources:
Blessings Jar. We got quite a few comments from friends about our issue on The Blessings Jar. Here is a jar identical to the one we've used for years and years. It's stood the test of time and it stays in our kitchen on top of the microwave all year long, so it's easy for us to remember to write down a blessing and put it in the jar. This jar also makes a great gift. If you don't know what a Blessings Jar is, then GO HERE>>

It's not too late for last minute Christmas gifts!

Time to think Christmas. Below are some of our favorite educational fun and games.

To see some of our top choices for educational fun and games, GO HERE>>
And don't forget that books make great Christmas presents. For lists of the best of the best reading for all different age groups, GO HERE>>
KLUTZ BOOKS

We love the Klutz products. They are good,creative lasting fun and they also teach interesting concepts and skills. All supplies are included in the kits. Our kids loved the Klutz books as they were growing up.
Book of Paper Airplanes. This is the original, the best, of the paper airplane books.
The Explorabook: A Kid's Science Museum in a Book. Like the title says, this is kind of a science museum in a book with all kinds of science experiments and explanations.
Window Art. Make stained glass-looking designs on any window. Really neat!
Paper Fashions: Design Your Own Styles. If you have a girl who likes to design clothing, this is for her!
Lettering in Crazy, Cool, Quirky Style. A combination of calligraphy handbook and crazy decorative writing styles.
Super Scissors Book. Teach children how to make designs with scissors.
Book Of Knots. OK, this is the old standby. Our boys learned their knots using this book and in fact were the hit of a variety show by demonstrating how to tie various knots.
Shrinky Dinks Book. Our guys loved making these Shrinky Dinks. You cut out special sheets of plastic, then when you heat them in the over they shrink and thicken. Great for making novelty key chains.
Paper Flowers. Make beautiful paper flower arrangements following the instructions in this book.
Big Bubbles. This is the mother lode of all fun toys. Make a bubble the size of a truck with the instructions and special bubble wand that is included in this kit.
Melty Beads. Make all sorts of things with meltable beads.
Introduction to Embroidery. This is an embroidery primer that includes supplies as well as a lot of great patterns.
Knitting Kit. An introduction to knitting that includes supplies and easy-to-learn knitting instructions.
Face Painting. Our boys loved this kit and were the hit of parties. Face painting make-up and instructions for making all sorts of "faces."
Bead Rings. Create your own bead rings.
Magic. Learn a dozen magic tricks. Supplies included.
T Shirt Art Book. Everything you need to make your own specially designed (by you) T shirt.

Juggling for the Complete Klutz. This was our boys favorite book. They all learned how to juggle using it and amazed their friends. Juggling balls included.

Paper Stained Glass Kit. Make stained glass looking designs out of paper.

Foam Gliders. For the younger set, these gliders are safe to use and easy to make.



Juice Plus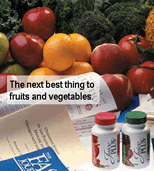 I want to spotlight a product I've found that has made a real difference in my health. It's called Juice Plus+.

I've always been concerned that my family was never getting enough fruits and vegetables because a lot of times, in spite of my best intentions, breakfast wound up being something quick like cereal and lunch wound up being something even quicker, like a peanut butter and jelly sandwich. I went through periods where I would try and make the meals ahead, but that only lasted a short while. Then I tried getting a juicer, and that lasted an even shorter while because it took three times as long to get the fruits and vegetables ready for the juicer and then to clean it afterwards than it took to make and drink the juice. And I always got stuck cleaning the strainer because no one else wanted to do it.

Then a friend recommended Juice Plus+ to me. It has 17 fruits, vegetables, and grains in capsule form. Somebody has already done the juicing for me, then dried the juice in such a way that all the enzymes from the raw produce is in the capsules, and--big bonus--they are carbohydrate free.

Being the skeptic I am of any kind of health supplement, and wary as I am of any multi-level marketing business, I decided to give Juice Plus+ four months to prove its claims.

What did I experience? More energy, better skin, hair and nails, and better sleep. And did I mention that I had more energy. A friend of mine started on them at the same time and experienced significant improvement in a long-standing chronic disease.

So that's my story about Juice Plus+. It is an easy, affordable way to make sure you and your children get all the fruits and vegetables they need. And Juice Plus+ even has a children's health program that lets you get the capsules free for children between the ages of six and fifteen. Plus, there is a family plan to make Juice Plus+ even more affordable.

Another bonus is that Juice Plus+ makes a great home business that Moms can run to make money while they're home schooling.

So, check it out by going HERE>>