How to Survive the Relatives, part 2
A Primer in Twelve Lessons

Read past issues of the e-journal HERE>>
Sign up below to have the e-journals sent directly to your inbox.

by Ellyn Davis
In our last discussion of "How to Survive the Relatives," I shared three lessons: (1) Don't shoot the Messenger; (2) Get the Message; and (3) Leave the policing to the cops and the judging to the courts. If your Thanksgiving was like mine, God probably gave you plenty of opportunities to practice those three lessons.

Ah, the little mini-dramas of family togetherness.

That brings us to the next few lessons in your primer on "How to Survive the Relatives."

Lesson 4: Being Peter Pan is no fun without pixie dust.

You know what I mean. You, like I, probably really love your relatives, but you just don't like the fact that everytime you step back into your parents' home you feel like (and you're usually treated like) you're that same, goofy 16 year old kid who forgot to make sure the anchor securely dug into the sand when she left the boat out in the bay. Who would have thought it could drift five miles before washing ashore in another county? Now you're 48, but has your father ever forgotten? Of course not. And he's not going to let you forget either—or anyone else within earshot.

We probably never intended to be Peter Pan, but that is a common experience for people who moved away from their families as late teens or young adults and haven't lived close to them since. To our parents, and often to our extended families, we are stuck in perpetual childhood and never "grow up."

When you go back to your family home, your parents will tend to reassume their parenting role and treat you like the eighteen year old you were when you left home for college. Their most vivid memories of you will all have been formed before you entered your twenties.

Also, if your siblings are like mine, you will all tend to sit around the kitchen table with your parents and talk about times when you were kids. This tends to reinforce the feeling that you are still a child, even though you may have grown children yourself.

This doesn't mean your parents have refused to acknowledge you're now an adult, and it doesn't mean you're still as irresponsible as you probably were when you were eighteen. It's just a common family dynamic, so accept it as that and don't feel like you have to prove that you actually are now a responsible adult. (And be willing to consider that maybe you aren't as responsible an adult as you could be.)

Lesson 5: Your little light may indeed be shining.

Are you a Christian? If so, believe it or not, wherever you go you carry Christ with you. You may feel like the meekest, most ineffectual Christian on the planet, but, if you are truly a Christian, you have a power residing in you that can make others squirm and sometimes get downright hostile towards you whether or not you have been obnoxiously evangelizing them.

This means that a lot of the reaction we get from family members may have nothing to do with us personally. It may be the kingdom of darkness reacting to the presence of the Kingdom of Light. We can respond to these reactions with kindness when we realize they have nothing to do with us. And we can even be joyful that the reactions occurred, because it means that the Christ in us is affecting those around us.

Lesson 6: Nobody thinks your children or your pets are as cute as you do.

Sometimes I'm amazed at how oblivious people with small children are to the distraction and disruption their little "angels" cause when a group of adults is trying to interact. At one family gathering a cousin actually changed her baby's poopy diaper on a table in a restaurant, much to the disgust and dismay of everyone else present.

Just because you are used to your child singing at the top of his lungs or running around the table or going through drawers at home doesn't mean those behaviors are appreciated when your children are in someone else's house.

It's always a good idea to instruct your children in the way you want them to behave before you get to the family gathering. Try to remember times your relatives got upset with your children in past visits and focus on specific things you want your children to do or not do during the visit.

For example, my father has a very low tolerance for the noise and activity level that small children generate and he can only tolerate it for a short time before he starts getting grumpy. He also doesn't like his grandchildren messing with his "stuff," particularly his fishing tackle, which seems to attract them like moths to a flame. So, when the children were little, before we went to his house, we would have "rehearsals" of situations that were likely to arise and that way the children knew what they could and couldn't do in their grandparents' home and how they were to act around their grandfather.

Remember, your family may not be as blessed by your children as you are. In fact, few people are blessed by someone else's children, particularly elderly people who have grown unaccustomed to the noise and activity that children bring into a home.

Ditto pets. Few people are blessed by someone else's pets.

Ours is a pet-loving family. Everybody has some sort of pet from ferrets to flying squirrels and we often bring them when we visit each other. This Thanksgiving there were nine dogs and ten people. To tell you the truth, the dogs got really annoying, and no amount of cuteness could make up for the fact that you were constantly tripping over a dog wherever you went, especially when you tried to get in or out of the carport door. And of course,some of the kids wanted to bring their little Yorkies to the table so they could be part of the Thanksgiving Dinner. This was not well received by the grandparents.

To be continued....

Resources:
Blessings Jar. We got quite a few comments from friends about our issue on The Blessings Jar. Here is a jar identical to the one we've used for years and years. It's stood the test of time and it stays in our kitchen on top of the microwave all year long, so it's easy for us to remember to write down a blessing and put it in the jar. This jar also makes a great gift. If you don't know what a Blessings Jar is, then GO HERE>>

Time to Think Christmas!

Time to think Christmas. Below are some of our favorite educational fun and games.

To see some of our top choices for educational fun and games, GO HERE>>
And don't forget that books make great Christmas presents. For lists of the best of the best reading for all different age groups, GO HERE>>
KLUTZ BOOKS

We love the Klutz products. They are good,creative lasting fun and they also teach interesting concepts and skills. All supplies are included in the kits. Our kids loved the Klutz books as they were growing up.
Book of Paper Airplanes. This is the original, the best, of the paper airplane books.
The Explorabook: A Kid's Science Museum in a Book. Like the title says, this is kind of a science museum in a book with all kinds of science experiments and explanations.
Window Art. Make stained glass-looking designs on any window. Really neat!
Paper Fashions: Design Your Own Styles. If you have a girl who likes to design clothing, this is for her!
Lettering in Crazy, Cool, Quirky Style. A combination of calligraphy handbook and crazy decorative writing styles.
Super Scissors Book. Teach children how to make designs with scissors.
Book Of Knots. OK, this is the old standby. Our boys learned their knots using this book and in fact were the hit of a variety show by demonstrating how to tie various knots.
Shrinky Dinks Book. Our guys loved making these Shrinky Dinks. You cut out special sheets of plastic, then when you heat them in the over they shrink and thicken. Great for making novelty key chains.
Paper Flowers. Make beautiful paper flower arrangements following the instructions in this book.
Big Bubbles. This is the mother lode of all fun toys. Make a bubble the size of a truck with the instructions and special bubble wand that is included in this kit.
Melty Beads. Make all sorts of things with meltable beads.
Introduction to Embroidery. This is an embroidery primer that includes supplies as well as a lot of great patterns.
Knitting Kit. An introduction to knitting that includes supplies and easy-to-learn knitting instructions.
Face Painting. Our boys loved this kit and were the hit of parties. Face painting make-up and instructions for making all sorts of "faces."
Bead Rings. Create your own bead rings.
Magic. Learn a dozen magic tricks. Supplies included.
T Shirt Art Book. Everything you need to make your own specially designed (by you) T shirt.

Juggling for the Complete Klutz. This was our boys favorite book. They all learned how to juggle using it and amazed their friends. Juggling balls included.

Paper Stained Glass Kit. Make stained glass looking designs out of paper.

Foam Gliders. For the younger set, these gliders are safe to use and easy to make.



Juice Plus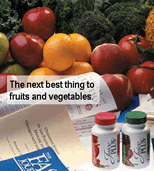 I want to spotlight a product I've found that has made a real difference in my health. It's called Juice Plus+.

I've always been concerned that my family was never getting enough fruits and vegetables because a lot of times, in spite of my best intentions, breakfast wound up being something quick like cereal and lunch wound up being something even quicker, like a peanut butter and jelly sandwich. I went through periods where I would try and make the meals ahead, but that only lasted a short while. Then I tried getting a juicer, and that lasted an even shorter while because it took three times as long to get the fruits and vegetables ready for the juicer and then to clean it afterwards than it took to make and drink the juice. And I always got stuck cleaning the strainer because no one else wanted to do it.

Then a friend recommended Juice Plus+ to me. It has 17 fruits, vegetables, and grains in capsule form. Somebody has already done the juicing for me, then dried the juice in such a way that all the enzymes from the raw produce is in the capsules, and--big bonus--they are carbohydrate free.

Being the skeptic I am of any kind of health supplement, and wary as I am of any multi-level marketing business, I decided to give Juice Plus+ four months to prove its claims.

What did I experience? More energy, better skin, hair and nails, and better sleep. And did I mention that I had more energy. A friend of mine started on them at the same time and experienced significant improvement in a long-standing chronic disease.

So that's my story about Juice Plus+. It is an easy, affordable way to make sure you and your children get all the fruits and vegetables they need. And Juice Plus+ even has a children's health program that lets you get the capsules free for children between the ages of six and fifteen. Plus, there is a family plan to make Juice Plus+ even more affordable.

Another bonus is that Juice Plus+ makes a great home business that Moms can run to make money while they're home schooling.

So, check it out by going HERE>>