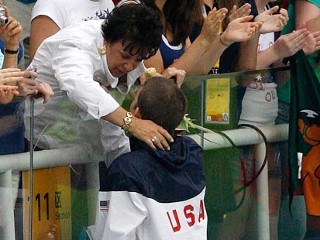 Olympic Roses for Mom

View past ejournals HERE>>

When her son was in grade school, Deborah Phelps was told by one of his teachers, "Your son will never be able to focus on anything."

That boy grew up to be swimming superstar Michael Phelps, who this past week made Olympic history. And that teacher's assessment, to put it mildly, has turned out to be untrue.

Tributes to His Mother

I don't know if you had a chance to watch the Olympics last week, but if you didn't, you can catch up through videos of the events at NBC's website http://www.nbcolympics.com.

Of course, other than the excitement of watching Michael Phelps win eight gold medals, some of them by just the length of a fingertip, what impressed me about this young man was his team spirit and the mature, non-egoic way he handled all his interviews.

But what impressed me most of all was his repeated tributes to his mother.

As Michael stood on the podium after each gold medal, his eyes would search the crowd until he found his mother and sisters. Then his face would break into a huge smile. At the completion of each of the first seven award ceremonies, Michael would throw his winner's bouquet of flowers to his mother and sisters.

And, when his last competition was over, his eighth gold medal round his neck, Phelps climbed up past photographers in the press seats so he could reach into the stands and kiss his mother, a woman who has been his champion his entire life.

"She just said congratulations. And then she started crying, and I started crying and then my sister started crying. We haven't really had too much time together," Phelps said.

When asked what he was going to do when the Olympics were over, he replied, "The first thing I'd like to do to my mum is just hug her. I've literally seen her for about 30 seconds this whole time."

Michael's Difficult Childhood

Michael had a hard time as a child, both in school and in fitting in with other children.

Michael had huge ears and arms that swung below his knees, so the other kids in school bullied and tormented him. There was always something that other kids were picking on him for or making fun of him about.

Starting with preschool, teachers complained about Michael. He couldn't stay quiet, he wouldn't sit still, he didn't keep his hands to himself, he was constantly disrupting the class by giggling and laughing and nudging kids for attention.

As he entered public school, he displayed what his teachers called "immature" behavior."

"In kindergarten I was told by his teacher, 'Michael can't sit still, Michael can't be quiet, Michael can't focus,' " recalled Debbie Phelps, who was herself a teacher for 22 years.

Michael's performance at school was lackluster—mostly C's and D's with some B's. His high level of distractibility and need for kinesthetic interaction with the world made it impossible for him to focus on anything except subjects that were hands on, like gym and science lab.

At 7, Michael began swimming, following in the footsteps of his two older sisters who were also swimmers. The pool became Michael's safe haven and it gave him the sense of boundaries and the outlet for his excess energy that he needed. Also, it gave him an area in which he could excel. In the water, distractions were minimized and he could concentrate his focus.

When he was in fifth grade, his family physician suggested that Michael may have A.D.H.D. — attention deficit hyperactivity disorder—and put Michael on Ritalin. The physician's children also swam, and he'd noticed Michael at the Phelps sisters' swim meets. "Michael used to run around like a little crazy person mooching food off people," said Mrs. Phelps.

It was a tough period. Debbie Phelps and her husband, a state trooper, were divorcing. She had just gone back to school to get a master's degree to become an administrator, and at the same time she had to be the 24/7 parent for Michael and his two sisters, since her ex-husband didn't play an active role in the children's lives.

"She was amazing"

His mother became the primary provider for Michael and his sisters. In an NBC interview after his Beijing medal sweep, Michael credited his mother's determination to keep the family together and to provide each of her children with what they needed to succeed as his role model for how he lives his life.

"She was amazing and nothing I've done could be done without her."

Read more about Michael Phelps and ADHD in the column to the right.
Resources for AHDH

The Survival Guide for Kids With ADD or ADHD by John F. Taylor
Dr. Bob's Guide to Stop ADHD in 18 Days by Robert DeMaria
The Disorganized Mind: Coaching Your ADHD Brain to Take Control of Your Time, Tasks, and Talents by Nancy A. Ratey
The Gift of ADHD Activity Book: 101 Ways to Turn Your Child's Problems into Strengths by Lara, Ph.D. Honos-Webb
How To Reach And Teach Children with ADD/ADHD: Practical Techniques, Strategies, and Interventions by Sandra F., M.A. Rief
The ADHD Parenting Handbook: Practical Advice for Parents from Parents by Colleen Alexander-Roberts
Driven To Distraction : Recognizing and Coping with Attention Deficit Disorder from Childhood Through Adulthood by Edward M. Hallowell
How to Talk So Kids Will Listen & Listen So Kids Will Talk by Adele Faber
The Five Love Languages of Children by Gary Chapman
The "Putting on the Brakes" Activity Book for Young People With ADHD by Patricia O. Quinn, Judith M. Stern, and Neil Russell
10 Days to a Less Distracted Child: The Breakthrough Program that Gets Your Kids to Listen, Learn, Focus, and Behave by Jeffrey Bernstein
Making ADHD a Gift: Teaching Superman How to Fly by Robert Evert Cimera
Understanding ADHD: The Definitive Guide to Attention Deficit Hyperactivity Disorder by Christopher Dr Green and Kit Chee
ADHD: Attention-Deficit Hyperactivity Disorder in Children, Adolescents, and Adults by Paul H. Wender
The ADHD Workbook for Parents by Harvey C. Parker
ADD & ADHD for Dummies by Jeff Strong, Michael O. Flanagan, and Lito Tejada-Flores
Empower ADHD Kids: Practical Strategies to Assist Children With Attention Deficit Hyperactivity Disorder in Developing Learning And Social Competencies by Becky Daniel-White and Kathryn E. Flora
ADHD: A Survival Guide for Parents and Teachers by Richard A. Lougy and David K. Rosenthal
The Attention Zone: A Parent's Guide To Attention Deficit/Hyperactivity by Michael Cohen
ADHD Book: Living Right Now! by Martin L., M.D. Kutscher
Life on the Edge: Parenting a Child with ADD/ADHD by David Spohn

Be sure to sign up for our ejournal! Sign up below.

View past ejournals HERE>>

Resources for rethinking education



Books by John Gatto. These books will change the way you think about education. Gatto was a public school teacher for decades and New York's Teacher of the Year, so he has first-hand experience with the effects of public schooling. Not only do his books discuss the major issues about what schooling does to our children, he offers insights into what a true education entails and reflects on our society as a whole and the distorted thinking that leads us to subject our children to an influence that robs them of their creativity and enthusiasm for learning. Gatto's books are "MUST READS."
Dumbing Us Down
A Different Kind of Teacher

Books by John Holt. Holt's books are wonderfully thought-provoking and give you a real appreciation for the natural learning ability of your children. Read all of these! How Children Learn, Learning All the Time, and Teach Your Own . Also highly recommended: Guerrilla Learning: How to Give Your Kids a Real Education With or Without School





Endangered Minds by Jane Healy. Subtitled "Why Children Don't Think and What We Can Do About It," this is truly a significant book. The book's premise is that today's children, bombarded by a fast-paced media culture and with very little interaction with thinking adults, develop different "habits of mind" than children of the past and are therefore unable to tackle the skills involved in learning. Healy clearly explains why our modern lifestyles sabotage the ability to learn and tells us what to do about it. In the companion book, Your Child's Growing Mind Healy discusses how thinking and learning abilities develop for skills like reading, writing, spelling, proper use of grammar, etc. and what parents can do to create the "mind pathways" that enhance these thinking and learning abilities. These books are "must haves."



I Saw the Angel in the Marble
With over 4,000 copies sold in just a few months, I Saw the Angel in the Marble is becoming a home schooling best seller!
This book represents the best of 15 years of Elijah Company articles. Find our more HERE>>

Turning Hearts: Davis Seminar Set (8 CDs)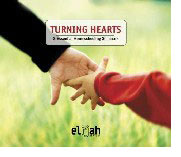 The Best of Chris and Ellyn Davis, this set contains seminars given by Chris and Ellyn Davis of The Elijah Company at home schooling conventions. The set contains all of the favorites that home schoolers ask for over and over. People have told us this set of CDs changed their lives. Find out more about them HERE>>


Angel in the Marble/Davis Seminars Set
Order a combination of I Saw the Angel in the Marble and the Davis Seminars CDs HERE>>


Building the Home School of Your Dreams

Building the Home School of Your Dreams is a 6 CD set taken from the From Home School To Home Business Seminar and features sessions by Chris Davis and Mary Hood. Find out more HERE>>

Life Skills for Kids by Christine Field is a guide to equipping your children with the life skills they will need as adults: people/home life skills, time/space organization skills, money management skills, healthy lifestyle skills, spiritual habits, decision making skills, creative skills, and celebration skills. Christine is a home schooling mother herself, and the book is written in such a way that it may be used as a reference point and checklist of desired skills and knowledge to be mastered.






Homeschooling the Early Years
Homeschooling the Middle Years
Homeschooling the Teen Years
Each of these books is a guide to successfully homeschooling the age group it covers. Starting with what makes the age group tick, chapters cover the important aspects of learning, practical ways to approach each subject area, and the many paths to success.





What Your Kindergartner Needs to Know
What Your First Grader Needs to Know
What Your Second Grader Needs to Know
What Your Third Grader Needs to Know
What Your Fourth Grader Needs to Know
What Your Fifth Grader Needs to Know
What Your Sixth Grader Needs to Know
This series of books covers what a child at each grade level should be learning in every subject. The books are great to have around to help you design your own curriculum and make sure you aren't leaving any "gaps." History, language arts, science, and several other subjects are covered in enough detail that the book could become your primary textbook for those subjects, but math is summarized, so further teaching materials may be needed there. As you develop your own "Home School Reference Center" of books you can refer to over and over, these need to be there.
Resources to discover how your child learns best


Developed by the authors of Discover Your Child's Learning Style, this is the most powerful and user friendly learning styles inventory in the world and it is NOW ONLINE! A Self-Portrait™ Profile assesses several aspects of learning style, quickly and simply, in language that is easily understood by everyone. These aspects are: Disposition, Modality, Environment, Interests, and Talents. If you want help in understanding what makes your child "tick" and how your can help him or her learn easier and better (or find out more about yourself), take this easy, quick learning styles assessment test. For more about this learning styles assessment test, CLICK HERE>>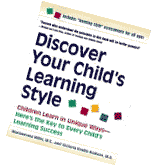 Discover Your Child's Learning Style is a book you need. Period. It has more potential to improve your child's education - and your family relationships - than almost any other book I have ever read. The authors of this book have developed a "Learning Styles Model" of education that helps you discern your child's:
• Talents
• Interests
• Preferred learning environment
• Thinking Style
• Modalities
The book includes handy self-tests. Use these to find out just how each child in your family loves to learn... and what teaching approaches help or hinder his learning style. What a huge difference this will make in your homeschool... and in your family relationships!



Discover Your Children's Gifts will help you uncover your children's natural giftings and personality traits. It helps explain why their personality "quirks" are really evidences of their own God-given gifts. The theological foundation is very sound, making good sense of the main passages on spiritual gifts in a way very few others do. Gifts are broken into 1) Manifestation (sign gifts - 1 Cor 12-14; Acts 2) 2) Ministry (equipping gifts - Eph 4) & 3) Motivational (every-Christian-gifts - Rom 12).




Dreamers, Discoverers and Dynamos. Every now and then a book comes along that fills in so many gaps in my understanding that I want to tell everyone about it. Dr. Pallodino suggests that one in five children is an "Edison Trait child," meaning he or she has one or more of the following: dazzling intelligence, an active imagination, a free-spirited approach to life, and the ability to frustrate the you-know-what out of others. The heart of the issue is that these children think divergently, while schools generally reward convergent thinking. This book discusses the different types of approaches to life your children may have (dreamer, discover, or dynamo) and how you can most help each type succeed.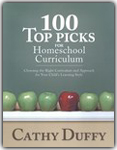 100 Top Picks for Homeschool Curriculum by Cathy Duffy. Selecting the right curriculum can be a time consuming task for any family that chooses home education. Now, Cathy Duffy makes choosing the right resources for your child easy!

I've always recommended Cathy's curriculum guides as the best out there for choosing teaching materials that "mesh" with who your family is. Now Cathy guides you through the process, offering her "Top Picks" from each subject area.

Any article appearing on this website may be copied or forwarded electronically provided that proper credit is given and that the article is not substantively modified. No article may appear in whole or in part in a publication sold for profit or as part of any commercial endeavor without the written consent of Home School Marketplace. Any reprint must include an acknowledgement of where it came from and the sentence "Sign up for the Home School Marketplace newsletter at www.homeschoolmarketplace.com."

© Copyright 2008. Home School Marketplace, 1053 Eldridge Loop, Crossville, TN 38571.