Shameless Puppy Scam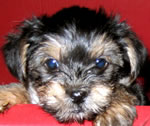 Wanted: Beninian Scammer Who Tried to Steal This Puppy!

Read past issues of the e-journal HERE>> Sign up below.
This week's newsletter is a little different because it's only peripherally about home schooling or home business. But I wanted to tell you about a scam that a friend of mine narrowly escaped that your family may fall prey to.

It's a new twist on a money scam that I had never heard of before, so please forward this to all your friends so they will know about it.

I especially wanted you to have this information because I know that so many of you are teaching your children to be entrepreneurs and your kids may be selling things on E-Bay and through ads that could invite this kind of a scam.

My friend (I'll call her Susan) has two Yorkshire terriers that she dearly loves and they recently had puppies. (GO HERE to see the puppies. They're really cute. If you're looking for a puppy, look no further!)

Susan ran ads in different newspapers within a hundred mile radius of where she lives and also set up a website so people who read the ads could go on-line and see photos and videos of the puppies.

One person who e-mailed her about the puppies told her that his little girl watched the puppy video and fell in love with one of the puppies. This man said he was from Australia and shared that it was very hard to find miniature Yorkshire terriers there and they were twice what they cost in the United States, so he wanted to buy the puppy and have it shipped to Australia.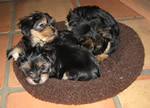 Well, of course Susan was delighted that the puppy seemed to be going to a good home with a little girl who would love it, so she arranged with the buyer to have the money wired into her bank account. The sale price of the puppy was $1200.

When my friend told me this, I warned her that it might not have been wise to have given banking information (account number and bank routing number) to someone from Australia, because it was fishy enough that someone from Australia would be looking for puppies in the Phoenix paper. Plus, what if the wire transfer showed up in her account and then was rescinded by the sender's bank? I suggested it might be safer to conduct the transaction through Paypal.

So Susan e-mailed the buyer and told him that she didn't want a wire transfer, she wanted the money sent to her Paypal account.

The next day, my friend received an e-mail supposedly from Paypal stating that $3700 had been transferred into her account and the transaction would show up in Paypal within a few days. The e-mail had the official Paypal logo and followed the format of a Paypal receipt for a transfer of money. (You've really got to see this. It looks authentic. GO HERE TO SEE THE FAKE PAYPAL RECEIPT.)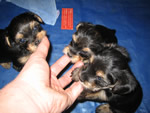 Immediately after the Paypal e-mail, the "Australian man" e-mailed saying that there had been a mix-up and he had sent $3700 instead of $1200, so my friend could send a cashier's check for the difference ($2500) when the shipper came to pick the puppy up the next day. Included on the supposed Paypal receipt was shipping instructions that gave the shipping company's home address as somewhere in Africa.

That's when Susan realized the whole thing was a scam and that the guy who claimed to be an Australian was actually a scam artist who scoured big city papers for items to buy and then talked the trusting seller into receiving fake funds for several thousand dollars more than the sales amount. That way he could get the seller to issue a cashier's check for the difference when the item was shipped.

But by that point, the scam artist had my friend's bank account and routing numbers.

I suggested that she check with the bank to see if there were any way the scammers could use that information to get money out of her account.

Their answer was "Yes."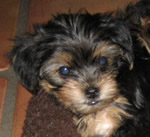 The bank (Chase) made Susan close her account and open a new one. The bank also told her that checks, money orders, wires, certified checks and cashier's checks can be bogus, so although your bank may show that the funds are in your account, weeks or even months later the transaction can be reversed because there isn't money at the other end. The only way to really be sure you've received your money is to either get it in cash or receive it through the real Paypal.

The bank also told her that if you're going to use a bank account for those types of transactions, you should create a separate account from your regular account and only keep a small amount of money in that account.

Also, if you are a buyer, you shouldn't pay for things by check because it gives the seller enough information to conceivably access your checking account based on information printed on your check. The bank's recommendation, again, was to either set up another account that you only keep a minimum amount of money in or to use your bank's on-line billpay service.

My friend was devastated, not only because she had unwittingly come that close to being taken in by the scam and tricked out of $2500, but also because she trustingly had held the puppy for the scammer even though someone else was interested in buying her, so she effectively lost two sales.

But the thing that makes her most upset is knowing that all the scammer wanted was her money, so there's no telling what would have happened to her beloved puppy once the shipper picked it up.
Next week....The I.E.P: Pulling it all together.


Top Resources from last week's Newsletter. GO HERE TO READ.

General Resources
What is a Family. This is one of the best books we have ever read. We re-read it periodically, and each time are brought to tears—tears of longing because it so perfectly expresses what we want our family to be like. Edith Schaeffer shares how the family is meant to be the birthplace of creativity: a center for the formation of relationships: a museum of wonderful memories that provide a hedge of protection around our children; an educational control; a perpetual relay of truth; and more.

For the Family's Sake. Edith's daughter Susan Schaeffer Macaulay takes up where her mother left off. By showing the power a godly home can have in a child's life, she challenges every one of us to treasure the precious time we have at home with our children.
For the Children's Sake. Susan Schaeffer Macaulay continues to follow in her mother Edith Schaeffer's footsteps, and in this book describes how to develop relationships filled with grace, beauty, and love. She views education as "the diet that opens doors for each child to build a relationship with God, other persons, and the universe."

How to Really Love Your Child. In this extrordinary book, Dr Ross Campbell helps parents manifest love toward their children in all situations of child-rearing through the teen years. Many parents do not know how to express affection in ways that make a chid feel loved. This book details practical demonstrations of that are meaningful to children.

How to Really Love Your Teenager is specifically addressed to parents of teens. Dr. Ross Campbell believes that parents experience their greatest difficulties at this stage because they are unable to relate to the moodiness and self-identity issues that teens go through. So parents often harbor misconceptions and face disappointment in their relationships with their teens. This book offers ideas to help you communicate unconditional love, handle teenage anger . . . as well as your own, deal with adolescent depression and help your teenager grow spiritually and intellectually.

Margin by Richard Swenson. We are convinced that home schooling succeeds or fails depending on the "margin" we build into our lives. Margin is the space that should exist between us and our financial, emotional, spiritual, and physical limits. It is the time to build relationships, to reflect on life, to live deliberately and unhurriedly. It is the money to invest in important things. It is the emotional reserve to love, laugh, and relax. It is the time to do what you value most. This book discusses how we crowd margin out of our lives and what we can do to regain it.
The Overload Syndrome by Richard Swenson picks up where Margin leaves off, explaining the pressures of our culture that are taking a toll on all that we are and do. Written in the form of "prescriptions" to counteract the life-draining, health-damaging effects of overload, this book can truly restore health, save marriages, reconcile children, and bring back the joy of living.
Restoring Margin to Overloaded Lives is a workbook that helps you examine your life to find out where your "overloads" are; how you seem to keep accumulating them; and what you can do to eliminate them.

Relational Skills Resources

The Five Love Languages. Unhappiness in a relationship often has a root cause: we speak different love languages. Each of us has a "love language" of certain actions and words that when others use them it makes us feel loved. Do you feel most loved when those you love spend quality time with you, give you gifts, speak words of affirmation, perform acts of service, or when they touch you affectionately? This is a very thought-provoking and helpful book because it has given us greater understanding of how to show we care in a way that is most meaningful to the other person.

The Five Love Languages of Children and The Five Love Languages of Teenagers focus on finding the form of love most meaningful to each of your children and how to express love in ways that they can truly appreciate and receive it.

The Blessing. In the Bible, the parents' blessing was especially powerful, often defining the course of a child's life. This book discusses how a parent's words can shape identity for good or evil, and how what we speak over our children can hlep them become who God means them to be. It also shares the heartache a lack of parental blessing can bring, and how we can confer a blessing upon our children.

Emotional Intelligence and How to Raise a Child With a High EQ are the seminal works on understanding emotional intelligence and how to develop it in your children (and yourself).

Aptitude/Interest/Gifting Skills Resources
Discover Your Children's Gifts by Don & Katie Fortune. Part of training our children is discovering who God created them to be and the "works" He created them to do. This book looks at the spiritual gifts latent in each child and explains how parents can recognize and best develop these gifts for useful service. Based on Proverbs 22:6 and Romans 12: 6 - 8, it discusses how gifting affects communication, career possibilities, and more.
Discover Your Child's Learning Style by Mariaemma Willis and Victoria Kindle-Hodson.
One mother wrote, "This is the most important book I have read in six years of homeschooling." Does your child learn best at a certain time of day? Does background music increase or decrease reading comprehension? Does he or she study better alone or with others? There are more aspects to a student's learning style than the simple modes of visual, auditory, or kinesthetic. A "learning style profile" takes into account a child's talents, interests, preferred learning environment, and disposition, as well as the three familiar modes. By using do-it-yourself work-sheets, the guide helps you develop your child's learning style profile.
The New Birth Order Book by Kevin Lehman. Is your child the firstborn, a middle child, or the "baby?" Birth order and gender have a powerful effect on personality and aptitude. This book discusses how we are shaped by our place in the family.

Critical Thinking Skills Resources

Building Thinking Skills are the best critical thinking products available. In workbook format, they contain exercises in four thinking skill categories: similarities and differences, sequences, classification, and analogy. Each book has over 250 pages and is meant to be used for two or more grade levels. Pages are reproducible, or the student may write in the book. Choose Building Thinking Skills, Book 1 for grades 2 - 4, Building Thinking Skills, Book 2 for grades 4 - 6. At the Jr/Sr high level there are two books: Building Thinking Skills Book 3 Verbal and Building Thinking Skills Book 3 Figural.
The following teacher's manuals are highly recommended because you want to be able to refer to the answers quickly and as the lessons get more and more difficult you won't want to take the time to solve the problems yourself:
Building Thinking Skills Book 2 Lesson Plans and Teacher's Manual
Building Thinking Skills Book 3 Figural Lesson Plans and Teacher's Manual
Building Thinking Skills Book 3 Verbal Lesson Plans and Teacher's Manual

Critical Thinking is a course in practical logic for high school or advanced middle school. Through studying newspapers, speeches, and advertisements it covers basic concepts of logic, common errors in reasoning and how to discern them, and applying logic to everyday problems. These are the best of the best of the critical thinking products out there. Critical Thinking Book 1 and Critical Thinking Book 1Teacher's Manual or Critical Thinking Book 2 and Critical Thinking Book 2 Teacher's Manual. It's best to start with Book 1 and then move into Book 2.

Endangered Minds by Jane Healy. This book clearly explains how certain ways of thinking actually prepare children for learning or for failure depending on the neural pathways they have developed in early childhood. A significant book with many insights about how we can give our children the thinking skills necessary to learn and to face the challenges of everyday life.



If you haven't had a chance yet to tell me what home schooling means to you, please GO HERE NOW. It will just take you a few minutes and your input is invaluable to me. Thanks!
WHAT HOME SCHOOLING
MEANS TO ME SURVEY