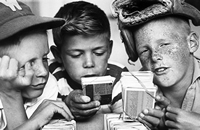 Building Relationships

Read past issues of the e-journal HERE>> Sign up below.

by Ellyn Davis
After a six week break from writing the newsletter, I'm back. I don't know how many of you called in when I had the "website makeover" critique, but I've got big changes in the works to both the website and the newsletter. So look for the changes soon.

A reason, a season, or a lifetime
I recently heard a talk on "living in the present moment," and in it the speaker said, "relationships are not here to make you happy, they are here to make you live in the present moment." As I thought about it, I realized he was right. We tend to look to relationships to make us happy, to bring a missing component to our lives, to meet our needs - even if the need is to give love to someone else or to raise godly children. But actually, relationships make us more aware of who we are, warts and all, and they teach us to value the moment. And the hardest part about relationships is that you have to learn to love and let go at the same time.

Someone sent this to me in an e-mail and I thought I would share it with you.

"People come into your life for a reason, a season or a lifetime. When you know which one it is, you will know what to do for that person.

When someone is in your life for a REASON, it is usually to meet a need you have expressed. They have come to assist you through a difficulty, to provide you with guidance and support, to aid you physically, emotionally or spiritually. They may seem like a godsend and they are. They are there for the reason you need them to be. Then, without any wrongdoing on your part or at an inconvenient time, this person will say or do something to bring the relationship to an end.

Sometimes they die. Sometimes they walk away. Sometimes they act up and force you to take a stand. What we must realize is that our need has been met, our desire fulfilled, their work is done. The prayer you sent up has been answered and now it is time to move on.

Some people come into your life for a SEASON, because your turn has come to share, grow or learn. They bring you an experience of peace or make you laugh. They may teach you something you have never done. They usually give you an unbelievable amount of joy. Believe it, it is real. But only for a season.
LIFETIME relationships teach you lifetime lessons, things you must build upon in order to have a solid emotional foundation. Your job is to accept the lesson, love the person and put what you have learned to use in all other relationships and areas of your life. It is said that love is blind but friendship sees into the heart of the other person.
Thank you for being a part of my life,whether you were a reason, a season or a lifetime."
The importance of relationships
We believe that there are four relationships in life, and our emotional, physical, and spiritual well-being depends on how balanced we are in these four areas of relationships.

Our first and primary relationship is with God. Everyone relates to God in some form of acknowledgment or denial. Our relationship with God is crucial because it affects how we relate to everything else. How we view God and how we think He views us will be reflected in everything we do and in how we treat the other three relationships of life. Our relationship with God gives us our internal sense of what matters in life, of right and wrong, and of who we are.

Our second relationship is with self. This not only has to do with personal care of our spirit, soul, and body, but how we view ourselves, what kind of people we are, what motivates and drives us, our value and belief systems, our sense of meaning and purpose. Who we are inside is manifested in how we treat our minds, bodies, and emotions, and is a direct reflection of our relationship with God.

Our third relationship is with others. Our culture encourages us to consider people disposable, as commodities, and makes possessions and personal pleasure more important than people. But Jesus said that loving others as yourself is the second great commandment, second only to loving God.

Our fourth relationship is with created things: how we relate to time, to money, to work, to our possessions, to animals, to the earth, and so on.

The actual meaning of the word righteousness is "right relationship," and refers to being "rightly related" to God. We want our children to be righteous in their relationship with God, but also "rightly related" in each of the other areas of relationships.

Emotional Intelligence


In the last decade, there has been increasing interest in what psychologists refer to as "emotional intelligence," because research has found that emotional intelligence is a more accurate predictor of success and happiness in life than IQ.

The Basics of Emotional Intelligence Include
• Knowing your feelings and using them to make life decisions you can live with.
• Being able to manage your emotional life without being hijacked by it -- not being paralyzed by depression or worry, or swept away by anger.
• Persisting in the face of setbacks and channeling your impulses in order to pursue your goals.
• Empathy -- reading other people's emotions without their having to tell you what they are feeling.
• Handling feelings in relationships with skill and harmony -- being able to articulate the unspoken pulse of a group, for example.

Emotional intelligence "is the capacity for recognizing our own feelings and those of others, for motivating ourselves, and for managing emotions well in ourselves and in our relationships" (Daniel Goleman, 1998).

EI refers to the capacity for recognizing our own feelings and those of others, for motivating ourselves, and for managing emotions in us and in our relationships. EI describes abilities distinct from, but complementary to, academic intelligence or the purely cognitive capacities measured by IQ.

Emotional intelligence includes: Knowledge of your own emotions Regulating your emotions Being able to motivate yourself (self-motivation) Recognizing the emotions of others Getting along well with others.

Emotional Intelligence (EQ) has two components:
a) Intrapersonal Intelligence is the ability to recognize and manage one's own emotions, and
b) Interpersonal or Social Intelligence is the ability to recognize emotions in others and use that information as a guide for behavior, and for building and maintaining relationships.

Skills for each type of relationship

When it comes to educating our children, we want to teach them skills that are vital to each of the four primary relationships - with God, with others, with self, and with created things.

Relational skills that enhance our relationship with God are: familiarity with the Bible; the ability to use Bible study materials; a basic understanding of church history and different church doctrines; perhaps even the ability to translate the Bible from the original Greek or Hebrew

There are other spiritual skills such as an active prayer life, praise and worship, and so forth. None of these skills is essential for salvation, but each gives greater depth to our relationship with God.

There are certain skills that smooth the way for relationships with others. For example, Communication skills such as reading, writing, speaking, good body language, listening, and observing help build relationships. Good manners are also important relational skills. Character is another relational skill. Character qualities are those attitudes and actions that pave the way for better relationships with God, ourselves, others, and created things such as time, money, possessions, and work.

In addition to communication skills and character, social skills are very important. Social skills include such things as: ways of interacting with others, the ability to put other people at ease and engage them in conversation, proper ways of persuading and influencing others, knowing how to act in different social situations, strategies for resolving conflict, and so forth.

Because we expect our children to have to enter the work force at some time in their lives, we include business skills under relational skills. Why? Because much of what makes an employee valuable to a company or to a boss is not technical expertise but character qualities such as punctuality, dependability, initiative, and honesty, as well as relational skills such as working well with others, healthy submission to leadership, and so on.

Top Resources for Building Healthy Relationships

The Seven Habits of Highly Effective People by Stephen Covey. Covey's ideas are so widely circulated that if you don't read his book, you'll be at a disadvantage when people start talking about concepts from the book like "win-win" and "synergy." But that's not the real reason to read his book. The real reason is that it is one of the absolute greatest distillations of the concepts that it takes to move toward success and effectiveness in every area of life, including relationships.

The Seven Habits of Highly Effective Families by Stephen Covey. Covey defines success in relationships as "a beautiful family culture" and encourages every parent to do some soul searching to become aware as to what really is priority in life. Then, he suggests we put "first things first." Most of us really want to have family come first, but doing that is often easier said than done. In this book, Covey clearly points out the essentials...such as establishing effective communication lines through family meetings and one-on-one talks with the kids. One of the most transforming things in this book is his description of how to create a family mission statement. This becomes a guiding principle of family life and was invaluable to our familyl as the children were growing up.

How to Really Love Your Child. In this extrordinary book, Dr Ross Campbell helps parents manifest love toward their children in all situations of child-rearing through the teen years. Many parents do not know how to express affection in ways that make a chid feel loved. This book details practical demonstrations of that are meaningful to children.

How to Really Love Your Teenager is specifically addressed to parents of teens. Dr. Ross Campbell believes that parents experience their greatest difficulties at this stage because they are unable to relate to the moodiness and self-identity issues that teens go through. So parents often harbor misconceptions and face disappointment in their relationships with their teens. This book offers ideas to help you communicate unconditional love, handle teenage anger . . . as well as your own, deal with adolescent depression and help your teenager grow spiritually and intellectually.

The Five Love Languages. Unhappiness in a relationship often has a root cause: we speak different love languages. Each of us has a "love language" of certain actions and words that when others use them it makes us feel loved. Do you feel most loved when those you love spend quality time with you, give you gifts, speak words of affirmation, perform acts of service, or when they touch you affectionately? This is a very thought-provoking and helpful book because it has given us greater understanding of how to show we care in a way that is most meaningful to the other person.

The Five Love Languages of Children and The Five Love Languages of Teenagers focus on finding the form of love most meaningful to each of your children and how to express love in ways that they can truly appreciate and receive it.

The Blessing. In the Bible, the parents' blessing was especially powerful, often defining the course of a child's life. This book discusses how a parent's words can shape identity for good or evil, and how what we speak over our children can hlep them become who God means them to be. It also shares the heartache a lack of parental blessing can bring, and how we can confer a blessing upon our children.

Emotional Intelligence and How to Raise a Child With a High EQ are the seminal works on understanding emotional intelligence and how to develop it in your children (and yourself).


If you haven't had a chance yet to tell me what home schooling means to you, please GO HERE NOW. It will just take you a few minutes and your input is invaluable to me. Thanks!
WHAT HOME SCHOOLING
MEANS TO ME SURVEY



Any article appearing on this website may be copied or forwarded electronically provided that proper credit is given and that the article is not substantively modified. No article may appear in whole or in part in a publication sold for profit or as part of any commercial endeavor without the written consent of Home School Marketplace. Any reprint must include an acknowledgement of where it came from and the sentence "Sign up for the Home School Marketplace newsletter at www.homeschoolmarketplace.com."

© Copyright 2006. Home School Marketplace, 1053 Eldridge Loop, Crossville, TN 38571.