Survey on Home School Dating, Courtship and Boy/Girl Relationships!!!

Thanks to all of you who have taken the time to contribute to our boy/girl relationships survey. We're taking the survey down in a few days, so if you haven't already shared your questions and opinions with us, please go ahead and do so.
CLICK HERE TO TAKE THE SURVEY ON DATING/COURTSHIP AND BOY/GIRL RELATIONSHIPS.

Living a Remarkable Life
by Ellyn Davis
View past ejournals HERE>> Sign up for our newsletter below.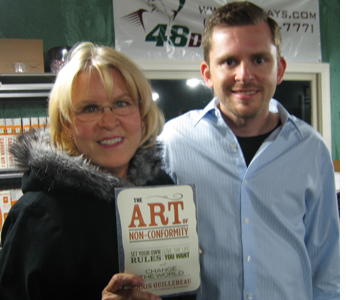 Last night I drove to Nashville to meet one of my heroes. His name is Chris Guillebeau and he has been my inspiration for the direction I'm trying to go business-wise.

A little background on why Chris Guillebeau is my hero.

Chris is living the life I dreamed of as a child but somehow got sidetracked from pursuing by the needs of family and my general unwillingness to take the necessary risks to live that way (plus by marrying a man who winced at the thought of becoming my partner in extreme adventuring and living an unconventional life and who, unlike I, was never a hippie and was never sorry he missed going to Woodstock).

As John Lennon once said, "Life is what happens to you while you're busy making other plans," and as the years passed, I wondered how to recapture the depth of the passion to live a remarkable life that was so strong in me when I was a Jesus Freak in the early seventies.

It's not that I regret putting some of my dreams on the back burner for awhile.

While they've simmered there, I took in 9 teenage foster girls; I raised four wonderful children, two with severe medical challenges; I home schooled three of them all the way through high school; I helped my husband pastor several churches; I visited five continents; I was instrumental in instituting rule changes that have made the horse show industry a much more humane environment for horses; I created a Quarter Horse breeding facility that produced multiple show champions; I wrote three books; I founded and operated The Elijah Company; and I spoke at home school and business conventions to thousands of people all over the country.
Like I said, I don't look back on those years with regret, it's just that the time has come to take my childhood dreams off the back burner and move them towards the front.

The only problem is…. Now I'm a vastly different person than the long-haired, bell-bottomed, Jimi Hendrix and Andre Crouch loving , hyper-zealous, filled with the Spirit but insane protester against the war I was 40 years ago and that unconquerable, "I'm going to change the world" feeling I had in my teens and twenties has considerably diminished. To use a 60's term, I've "mellowed."

Anyway, I started reading Chris Guillebeau's blog about a year ago and he is living the life of adventure I would like to live—traveling, writing, meeting interesting people, and using what he is passionate about to make a difference in the world. Last December I read a little free e-book he had on his site called A Brief Guide to World Domination: How to Live a Remarkable Life in a Conventional World. The book is about choosing to be remarkable, whoever you are and wherever you find yourself, and in it he asks two questions: (1) What do you want to get out of life? and (2) What can you offer the world that no one else can?

Since I wasat a real transition point, I took his questions seriously. My answer to question #1 (What do you want to get out of life?) was something along the lines of, "The point" and my answer to question #2 (What can you offer the world that no one else can?) was, "I don't know."

But then I read another of his free e-books, 279 Days to Overnight Success, which chronicles his journey to becoming a full-time, self-supporting writer in 279 days through a blog and several products he created. The report was incredibly encouraging to me because I've wanted for some time to revamp my website and turn it into something that was a real expression of what I believe about home schooling but that also helped others as well as provided me with the minimal income I'd like to begin pursuing my dreams again.

Reading both of Chris' guides not only turned up the heat and stirred all the "pots" I had put on the back burner of my life, but it also made me realize the answer to question #2: that I have some sort of ability to communicate by writing and speaking in ways that not only help people understand things they hadn't understood before but also helps them become inspired.

I love to write, but it's been a rough go. There have been so many transitions and distractions and off-path diversions over the past 10 years that my life has often seemed like a Lemony Snicket "Series of Unfortunate Events" novel.

But, with Chris' inspiration, I resolved to start working on my OWN 279 day path to success. My goal: achieve full-time, self-supporting writer status in 279 days or less. Call it my personal 279 Day Challenge. And I wanted to explain each step of my journey in such a way that anyone who wanted to could do exactly what I did and maybe even beat the 279 day record themselves. I'm now in around day 100 of the 279 days, and you can follow my progress at www.my279days.com.

And I rediscovered the answer to question #1: "I want to live an authentic, remarkable life."
Until next time....
Ellyn

Resources

The Art of Non-Conformity by Chris Guillebeau. This book takes the best of the best of Chris' advice in his blogs about living a remarkable life and distills it down into around 200 pages. It is a great read about how to live an unconventional life in the midst of a culture of conformity. He describes it this way:
"I should warn you now that this report is not for everyone. In fact, it's probably not for most people. Instead of writing for the general public, I spent about 35 hours writing these pages for a small minority of people interested in living life on their own terms while making a dramatic, positive difference in the lives of others at the same time."

I Saw the Angel in the Marble
Chris says:"It's a lonely road for those of us who choose to be remarkable, and the path of convention can sometimes be appealing. That path is paved with safe lives, middle of the road monotony, and little chance of failure. But where's the fun in being like everyone else out there?"

I guess I know quite a bit about being unconventional, and probably you do too. Just the fact that we chose to home school our children puts us in a radical, non-conformist minority.
I Saw the Angel in the Marble is full of insight and inspiration about how to home school in a remarkable way. This book represents the best of 15 years of Elijah Company articles. Find out more HERE>>
Turning Hearts: Davis Seminar Set (8 CDs)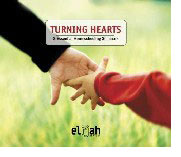 The Best of Chris and Ellyn Davis, this set contains seminars given by Chris and Ellyn Davis of The Elijah Company at home schooling conventions. The set contains all of the favorites that home schoolers ask for over and over. People have told us this set of CDs changed their lives. Find out more about them HERE>>

Angel in the Marble/Davis Seminars Set
Order a combination of I Saw the Angel in the Marble and the Davis Seminars CDs HERE>>
Building the Home School of Your Dreams is a 6 CD set taken from the From Home School To Home Business Seminar and features sessions by Chris Davis and Mary Hood. Find out more HERE>>
Be sure to sign up for our ejournal! Sign up below.

View past ejournals HERE>>
© Copyright 2010. Home School Marketplace
Any article appearing on this website may be copied or forwarded electronically provided that proper credit is given and that the article is not substantively modified. No article may appear in whole or in part in a publication sold for profit or as part of any commercial endeavor without the written consent of Home School Marketplace. Any reprint must include an acknowledgement of where it came from and the sentence "Sign up for the Home School Marketplace newsletter at www.homeschoolmarketplace.com."