Please take our survey!!!

We've home schooled our kids for over 20 years and we know what questions we wanted answers for along the way. But we want to know WHAT QUESTIONS YOU WANT ANSWERED so we can provide the information you really want.
So please take a few minutes and respond to our survey. It will help us know what you would like to hear more about in our future writings. It won't take more than five minutes of your time and we would appreciate it very, very much.
CLICK HERE TO TAKE THE SURVEY.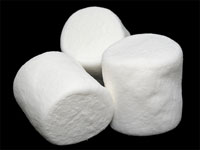 The Marshmallow Tests
by Ellyn Davis
View past ejournals HERE>> Sign up for our newsletter below.
In the late 1960s, psychologist Walter Mischel, a psychology professor at Columbia University, performed a series of tests on preschoolers referred to as "The Marshmallow Tests."
Mischel "tested" over six hundred 4-year-olds by putting each child in a broom closet-sized room alone with no distractions and only a child-sized table and chair. On the table were a bell and a plastic plate.
Mischel would place a single marshmallow on the plate, and as he did, he made the child an offer: the little boy or girl could either eat one marshmallow right away or could wait while he stepped out for a few minutes, and when he returned he would bring a second marshmallow. But they only got the second marshmallow if they hadn't eaten the first one by the time Mischel re-entered the room. He also told the children that if they rang the bell on the table while he was away, he would come running back and they could eat one marshmallow but would forfeit the second.

Mischel then left the room and watched how the children handled the temptation through a one way mirror.

Some of the kids could hardly last a minute. About thirty per cent of the children, however, successfully delayed gratification until the researcher returned, some fifteen minutes later.

When the Marshmallow Kids were in high school, Mischel sent out a questionnaire to all the reachable parents, teachers, and academic advisers of the six hundred and fifty-three subjects who had participated in his Marshmallow Tests. He asked about every trait imaginable from their capacity to plan and think ahead to their ability to "cope well with problems" and get along with their peers. He also requested their S.A.T. scores.

The survey results showed that "low delayers," the children who rang the bell quickly, seemed more likely to have behavioral problems, both in school and at home. They got lower S.A.T. scores. They struggled in stressful situations, often had trouble paying attention, and found it difficult to maintain friendships. The child who could wait fifteen minutes had an S.A.T. score that was, on average, two hundred and ten points higher than that of the kid who could wait only thirty seconds.

Mischel followed his Marshmallow Tests kids for 18 years and found that the ability to wait for the second marshmallow was an amazingly accurate predictor of their future success in school, their adjustment to life, their general happiness, and even their popularity. In other words, the children's ability to say, "No" to themselves was a key factor in their future success.

Mischel concluded, "What we're really measuring with the marshmallows isn't will power or self-control... It's much more important than that. This task forces kids to find a way to make the situation work for them. They want the second marshmallow, but how can they get it? We can't control the world, but we can control how we think about it."

The results showed that those 4 year olds who were able to wait for the second marshmallow were in later life "more socially competent: personally effective, self-assertive, and better able to cope with the frustrations of life... And, more than a decade later, they were still able to delay gratification in pursuit of their goals" (Emotional Intelligence, by Daniel Goleman, pp. 81-82).

Those who didn't wait for the second marshmallow were by adolescence more likely "to be stubborn and indecisive; to be easily upset by frustrations...immobilized by stress...prone to jealousy and envy; to overreact to irritations with a sharp temper, so provoking arguments and fights. And, after all those years, they still were unable to put off gratification." (ibid., p. 82).

What powered the kids who could resist?

The test found common elements among the children who could resist giving in to the treat left of the table in front of them when they thought no one was watching them.

Mischel studied the techniques the children used to resist the temptation to gobble the marshmallow right away. They covered their eyes with their hands, turned away from table so they wouldn't see the marshmallow, drummed their fingers, kicked the table, sang songs, counted numbers, twirled their hair and did all sorts of things to distract themselves. Some of them licked, smelled, or stroked the marshmallow. Others mashed it between their fingers but didn't eat it. "Distraction," says Mischel, "is actually a perfectly respectable away of exerting willpower. You simply shift your attention away whenever temptation crops up."

Another strategy the children used to resist temptation was changing the way they thought about the marshmallow--in other words, they didn't focus on the immediate pleasure of eating the marshmallow. Mischel found that if, before leaving the room, he told the kids to think about the marshmallow differently the children could wait longer. He said, "I told them to think about those marshmallows as if they were just cotton puffs, or clouds. Those instructions to the 4-year-old had a dramatic effect on her ability to wait for the thing that she couldn't wait for before."

Dr. David Walsh of Stanford University recently repeated Mischel's experiment and said that although it's tempting to simply focus on the children's responses to the marshmallow, that's not what the study is about. Instead, the marshmallow test is about kids developing self discipline. Walsh said it's a task children "outsource" to Mom and Dad.

"It's the kid's job to push against the limits," Walsh said. "And it's our job to set the limits."

"It's also a parent's job to be consistent," he added, if the child is going to learn the intended lesson.

"If I say, 'No, you can't have the candy bar,' and then 10 seconds later I'm giving them the candy bar, what they're learning is that 'No' doesn't mean 'No.' 'No' just means escalate, and I'll get what I want," Walsh explained.

"Prior generations had a culture that supported the message of 'No,'" Walsh said. "What's difficult today is that we have a culture that undermines the message. We have a culture that says, 'More, fast, easy, fun."

In other words, today's culture says, "Eat the marshmallow."

"A short term relief of giving kids what that want, we pay a long term price for that," Walsh said.

"We all know that life does deal challenge, frustration and disappointment," he explained. "We want kids to be able to handle that. How would they be able to handle that if they don't get practice?"

So, what's the moral of the story? In the Marshmallow Tests, and in life, good things come to those who can wait.
Until next time....
Ellyn
Here are two poignant videos of children in a Marshmallow Test. You will laugh out loud at the things they do and the faces they make when they are trying to resist the temptation to eat the marshmallow.

Be sure to sign up for our ejournal! Sign up below.

View past ejournals HERE>>
© Copyright 2010. Home School Marketplace
Any article appearing on this website may be copied or forwarded electronically provided that proper credit is given and that the article is not substantively modified. No article may appear in whole or in part in a publication sold for profit or as part of any commercial endeavor without the written consent of Home School Marketplace. Any reprint must include an acknowledgement of where it came from and the sentence "Sign up for the Home School Marketplace newsletter at www.homeschoolmarketplace.com."