The Story of My Makeover

This is Lauren Solomon from the cover of her book Image Matters. She is an internationally recognized expert in the field of image consulting. She has the enviable job of helping people get in touch with who they really want to be and then transforms them through hairstyle, makeup, and clothing so that they reflect on the outside who they are on the inside. To some it sounds superficial and shallow and like too much focus on the "outward appearance." But actually, image determines how you see yourself and how the world sees you. When you cultivate your image deliberately and strategically, you create a feeling of valuing yourself and many new doors will open before you.

I met Lauren at a conference last November and at that seminar she offered a two-day one-on-one total image makeover for what I thought was an incredible bargain. Since I had a milestone birthday approaching, I bought the image makeover for myself for my birthday (I'm not telling how old I am). Because of all sorts of life challenges, I wasn't able to have my image makeover until June, and this is the photo record of my transformation.


Preparation

Several weeks before the consultation, Lauren had me fill out a detailed questionaire that probed into who I was, what I wanted, the image I tend to project to others, the image I'd like to project to others, what my values are, and much, much more. She also asked me to start keeping a journal in which I wrote down my thoughts about who I was and cut out photos from magazines of styles of clothing, makeup, and hair that I liked.

She told me to bring several outfits of clothing to the consultation: some that I loved, some that I hated, some that I almost liked but couldn't quite figure out why I didn't love them, etc.

She also wanted some "before" photos. So here I am, business owner and smalltown home-school Mom of 20+ years, wearing the same clothes, glasses, hairstyle, makeup, jewelry, and extra pounds I've had for decades.

It's a scary thing to spend a lot of money on yourself, so I almost backed out several times the week before the makeover. But all of my friends, plus my boys urged me to go ahead and go for it. One of my friends told me, "Ellyn, you probably have never spent more than a few hundred dollars on yourself in your entire lifetime. You need to do this to to show yourself that you're valuable."

So I flew to Los Angeles, wondering if I'd lost my mind. I was going to spend two days with a high-powered image consultant from New York. What if she made me look like a wacko?

Some of the special challenges were my age (of course); my figure (like a Rubens model); and the fact that, due to an accident that fractured the right side of my face and destroyed my right eye, my face is disproportional. (I have a prosthesis.)

Day 1: Morning
Lauren met me at my hotel room and spent an hour or so going over my "profile" and getting a sense of what I wanted out of the consulation.

She also had me try on the clothes I''d brought with me and told me why some of them worked for me and some of them didn't, going into detail about which colors and styles were best for me.

She had several "color boards" of different pallettes of color and showed me the color ranges that were the most becoming on me. The colors she chose for me were totally different than the colors I normally choose for myself.

Lauren explained that I tend to pick colors that make people look at my clothes, not at me. Then she showed me a color pallete she thought would best bring out my hair, eye, and skin tones.




Day 1: Late morning

By 12:30 we were on our way to Beverly Hills to the hair salon. Lauren has a team of hairdressers, makeup artists, and fashion consultants in both New York and Los Angeles, so we were going to Sotiris, her favorite salon in LA. Sotiris is from Greece, and he looked at my hair, walked all around me uttering words I didn't understand, and then finally said (with a thick Greek accent), "Short eez no good for you. Layered eez no good for you. We need long, but will have to get the hair in the right shape for eet to grow out."



| | | | | | |
| --- | --- | --- | --- | --- | --- |
| | | | | | Here's what my hair looked like before Sotiris started working with it. And then the photos show the sequence of the transformation. |

Day 1: Afternoon

When Sotiris was finished with my hair, it was time for makeup. Veronica came to the salon while I was having my hair done and did some matches on my skin tone, etc. Then she went to buy the makeup.

She came back after lunch with a huge bag of concealer, foundation, powder, bronzing powder, blush, eye shadow, mascara, and lipstick plus all the brushes needed to apply everything.

You can see the progression of the makeup application in the photos to the right and below.



Veronica used to work in the recording industry and wanted to find something she could do on a more flexible schedule so she could spend more time at home with her children. So she learned how to choose and apply cosmetics for people.

Since she already had contacts in the music industry, she began her career as a make-up artist for various recording stars.
| | | |
| --- | --- | --- |
| | | |
| | | I bought three different pairs: both middle pairs and the top right. |



Here's the team (Sotiris and Veronica) with me after the hair and makeup are done. Compare this to the "before' photos.

Wow! What a difference! Now, clearly, I need new glasses. Lauren takes me to a designer glasses store in Beverly Hills and I try on dozens of styles. These were our favorites.

By now it's after 5 PM and Lauren thinks we should call it a day since tomorrow we will shop til we drop.

As we go back to her car, she says, "I want you to have the full Beverly Hills experience."

She is driving a snazzy convertible, so she takes the top down and we drive through Beverly Hills feeling beautiful.

Lauren tells me to relax and go out to dinner with friends. So I meet a friend who is also in LA that weekend and we go to the Santa Monica Pier and eat a nice dinner at a Mexican restaurant at the very end of the pier.


Day 2: Morning

Lauren arrives at my hotel room at 9:30, just as I'm getting out of the shower. She had told me the night before to be ready with wet hair, because she wants to make sure I know how to style my hair myself. I am relieved, because I really hate it when I get my hair done and then get home and can't do a thing with it.



Lauren has brought a new hair dryer, a big brush, some hair products and hair clips, and she walks me step by step through styling my hair myself. When we're done, it looks like it did when I left Sotiris' salon.

Then we work on my makeup. Lauren does the right side of my face, explaining what she's doing as she goes along. Then it's my turn. She watches and comments as I do the left side of my face.

When she is satisfied that I can style my hair and do my makeup myself, we leave for a day of shopping.

Day 2: Afternoon

Nordstom's is having their big Half Yearly Sale, so we head for a huge mall in Costa Mesa.

I had planned my makeover around a conference in LA that I was also attending, and a group of us from the conference are going out later tonight for dinner and then to a club in Hollywood called Avalon.

So at Nordstrom's our mission is to find a casual outfit to wear tonight, plus shoes and a handbag. But first, I need undergarments. I have been wearing the same brand of foundation garments (from WalMart) for years, and Lauren insists that I get whole new undergarments.

That makes our first stop Nordstrom's lingerie department. I won't show you any photos of the lingerie, but was interested to discover that most women are wearing the wrong sized bra (including myself). When I was measured and fitted properly, I wore an entirely different size than I thought I did.

I also am introduced to Spanx, a type of footless pantyhose. Amazing.

After buying a whole bag full of new undergarments, we went looking for a casual outfit. Here's what Lauren finally decided on for me. It's a look that I would have never chosen for myself, but I think it looks fabulous.

Our next stop is at the house of Anita Habib. Anita represents a designer line called Doncaster and she has a showroom in her home in Newport Beach. Lauren likes the Doncaster line because it has a designer look and fabrics and classic styling, but is more reasonable than most designer lines.

| | | | |
| --- | --- | --- | --- |
| | | | We have a blast trying on a whole lot of mix and match outfits to decide on my "wardrobe." |

Lauren has already decided on a color scheme for me and she wants to create a basic wardrobe of ten to fifteen pieces that all go together and that I can mix and match to be ready for any occasion from very casual to very dressy. So we spend several hours going through all the clothes and picking out the outfits that go together.


Since all of the clothing at Anita's are samples, I have to find at least one blouse, jacket, and slacks that fit so that we will know what size to order everything else in. Then I either squeeze myself into or wear like a sack all of the other outfits that don't fit just so we can get an idea of the color combinations and what goes together with what. Most of the samples are in sizes that are close enough to what I wear that they almost fit.

Anita also has lots of jewelry in her showroom and we try different pieces on to see how they look with the outfits.
We finish at Anita's at around 5 PM, and I have two suits, two blazers and a sweater set that can mix with the suits, four different colors of blouses, all of which mix with the suits and the blazers, a pair of sand colored jeans, and a gorgeous necklace and matching earrings. So between the ten pieces I can create at least two dozen different outfit combinations and can either be very dressy, very business-like, or chic casual. Now it's time to look for shoes and purses!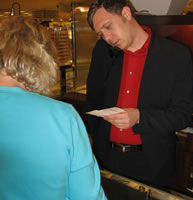 We head back to the mall and go to Nordstrom's again. Lauren doesn't see any shoes there she likes, so we walk down to Macy's and look at their shoes. Lauren picks out six pairs for me to try on. They are not like any shoes I would ever have chosen.

One of the pairs is what I call "Paris Hilton shoes." They have stilletto heels and pointed toes and are in a brown and cream pattern. I can't believe I could ever wear anything like those shoes, but when I try them on they are stunning and the color goes with every piece that I bought at Anita's. She also picks out a pair of teal blue baby-doll shoes. Oh my gosh! Never in my lifetime would I have ever even looked at those shoes! But Lauren is right. They are perfect. Her next choice is a pair of silver Roman-looking sandals, and then the piece de resistance--a pair of clear plastic sandals with lucite heels. I call them my "space-age" shoes. But they go perfectly with the outfit we picked out at Nordstrom's earlier in the day.

Then we wander around the handbag section and Lauren choses two purses: a cream-colored Calvin Klein leather shoulder bag and a small fold-over silver purse for evening.

Here's a photo of a very frustrated clerk trying to ring up my purchases.

Day 2: Evening
Lauren has a 10 PM flight to catch back to New York, so we hustle out of Macy's and head back to my hotel. We wanted to stop at In-N-Out because she had never had an In-N-Out burger and I told her she had to try one with their fries. (You can't get In-N-Out burgers back in the East.) But traffic was bad and we were running out of time before Lauren's flight, so we just headed straight back to my hotel. On the way back Lauren shared more with me about how transforming an image consultation can be because it helps someone really examine who they are, who they want to be, and brings to their awareness any incongruencies in their inner and outer selves.

I had already realized that just having the makeover done was bringing out all kinds of inner conflicts about myself. For example: I found it hard to spend money on myself. I can spend money on other people and am usually a very generous person, but when it came to doing something just for me I had to fight feelings that I was being selfish and extravagant.

Another internal conflict I wrestled with was how to remain soft and feminine but still be a powerful enough person to command the respect I need in order to succeed at business in a very masculine world. Somehow Lauren was able to find the balance through makeup, hairstyle, and clothing that allowed me to remain feminine and yet command respect.

The time was all too short before I had to tell Lauren goodbye and thanks for a wonderful and enlightening two days.
I had scheduled my time in Los Angeles around a business conference so I could kill two birds with one trip to L.A.--getting a makeover and attending the conference. I had skipped all the conference sessions today, and when I got back to the hotel, the last session was just finishing, so I went down to the ballroom where the conference was being held and waited for my conference friends to come out.

Before I even saw anyone I knew, a beautiful oriental woman I had never met walked over to me and started raving about my outfit. She went on and on about how beautiful it was and how she loved the color. I still don't know her name, but I asked if I could get a picture with her. Here she is.

In this photo you can also see the silver evening purse Lauren picked out for me, plus the outfit we had bought earlier in at Nordstom's. I don't have my new glasses yet, but the outfit makes the old glasses not look so bad.
Here's the reaction from several of my friends when they see me. On the left is Edward Teh, a financier from Los Angeles, then Monique Fell, home school Mom and real estate invester from Seattle, and hidden from view is Kay Mitchell, home school Mom and internet marketer from Tennessee.

On the right is Tim Lakey, web application expert, Monique and me.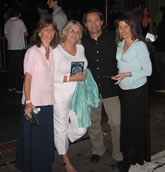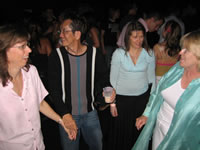 Here are Kay, me, Tim, and Monique again. Edward is taking the photo. The five of us are part of an Internet marketing Master Mind Group of around 20 men and women who meet weekly by phone and try and get together at conferences.

Edward lives in Los Angeles and he has planned an evening to show us the town. First he takes us to dinner at the hotel, then he drives us to Hollywood to visit Avalon, which, according to him is THE "gathering place" for all kinds of movie and music stars. Avalon is packed, but Edward takes us to a table down front and we visit and have a good time together and look like fools trying to dance.

We never see anyone famous, but we have a great time anyway.

When we are all so tired we can hardly stand up, Edward takes us for an early (very early) breakfast at what he considers the best Chinese restaurant in L.A. It must be authentic because Kay, Monique, Tim and I are the only Caucasians in the place. We are also the only ones speaking English.

By now it is very, very late, so we go back to our hotel and say our goodbyes because the next day we're all going our separate ways again and won't see each other until the next conference...whenever that is.


One week later


Since the clothes in Anita's showroom were her samples, the only clothes I actually came home with were those I bought at Nordstrom's and Macy's (my undergarments, shoes, purses, and the one outfit shown in most of the photos). But a week later a huge box arrives. It is my clothes from Anita. I try them on and they all fit except for one top. Everything else either fits perfectly or only needs minor alterations such as hemming the slacks.

A few days later my glasses arrive. I immediately have somewhere to go to dress up. My son James is opening in "Hello Dolly" the next day, so I put on my whole new outfit, with new glasses, and go to his show. I feel terrific and James is overwhelmed by my new look.
Epilogue



As I've thought about the difference the image makeover has made in my life, I have to say that it's one of the most important things I've ever done for myself. It almost became an initiation rite into a new phase of my life. My children are now all grown and on their own, I have recently started a new business, and I'm at a transition point where I'm looking to what the future may hold for me. My roles have changed. Other than being a wife, my primary roles used to be "Mom," "Parent Teacher," and "Business Partner." Now those primary roles are being transformed into "Business Woman," "Friend," and "Mentor." These changes have occurred both on the outside (through external circumstancesand life changes) and on the inside (in the way I think and feel). So my "look" has changed to be more congruent with my new life.

The other thing I realized is that the act of getting the makeover actually was a form of valuing myself-- of investing in myself. I've spent so much of my life investing in my husband, my children, my family, and those immediately around me that I tended to overlook investing in myself. So it's a wonderful feeling to value myself enough to do something like an image makeover.

Here's a photo taken last week. I'm still on track with my changes.